Frequently Asked Questions
Custom Quotes Questions
Printing Questions
Files Question
Security & Privacy Questions
Site-Related Questions
Custom Quote Questions
This depends on the complexity of your quote request. The vast majority of our estimates are done within a business day.
Estimates expire after 30 days.
Printing Questions
Offset printing is a technique where the inked image is transferred (or "offset") from a plate to a rubber blanket, and then to the printing surface. When used in combination with the lithographic process (which is based on the repulsion of oil and water), the offset technique employs a flat (planographic) image carrier on which the image to be printed obtains ink from ink rollers, while the non-printing area attracts a film of water, keeping the non-printing area ink-free.
Consistent high-quality images. Offset printing produces sharper and cleaner images and type than digital printing.
The print quality is generally better than in digital printing.
Works on a wide range of printing surfaces, including paper, wood, cloth, metal, leather, rough paper and plastic.
Cheaper for high volume printing. The overall price per printed piece drops.
Wide color gamut. Offset printing can accurately reproduce colors from the Pantone Matching System, while digital methods only simulate Pantone color using four-color printing.
Digital printing is a method of printing in which the data and images are printed directly from the computer onto paper.
Cheaper low volume printing. While the unit cost of each piece may be higher than with offset printing, when setup costs are included digital printing provides lower per unit costs for small print runs.
Faster turnaround time.
Variable data printing.
Better for the environment. Digital printing uses dry ink or toner, which doesn't emit any VOCs in printing. Also, this printing method produces much less paper waste than offset, because the set-up time is shorter.
More accurate proofing.
The quality difference can vary from almost negligible to significant. Most photographs and text will reproduce well on our high-end digital press.
Digital printing is more eco-friendly because it uses dry ink or toner, which doesn't emit any VOCs. Also, this printing method produces much less paper waste than offset, because the set-up time is shorter.
We recommend that you use offset printing if:
You require high-volume printing.
You want to print on paper thicker than 14 pt.
The size of the finished product is larger then 13'x19".
We recommend that you use digital printing if:
You need a short turnaround time.
You require low-volume printing (e.g., less than 250 business cards and 1000 brochures).
You need variable data printing.
Yes, if you order one. We can provide you with a soft proof or hard proof for color critical jobs. The soft proof will be sent via email. For color critical orders, we recommend requesting a hard proof, which is shipped to you via overnight mail.
Yes, however, in order to reduce wash ups and VOCs, we prefer printing with process inks.
Files Questions
We need a 1-up, press-ready PDF file with crop marks and bleed. Please see the "Preparing PDF Files" section of this web page for information about creating press-ready PDFs.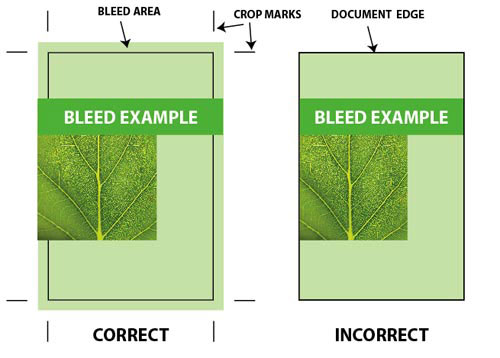 Crop marks are printed or drawn lines indicating where the paper should be cut to produce the correct page size.
No. Any desktop publishing software can create crop marks automatically when you export your file into a PDF. In this case, you have to make sure that the trim size is the same as your document size. For example, if the final trimmed size of your business card is 3.5" x 2" then your document size must be the same.
No. All files are imposed automatically by our workflow. If you submit the imposed file yourself, chances are that we will have to break it apart and re-impose it.
If any element on your document layout makes contact with the document border you will have to use bleed. The trick is to place the element so that it goes over the border where the document will be cropped after printing.
The term bleed is used for all objects overlapping the border of your document.
No. Conversion from RGB to CMYK is done automatically on our workflow.
We recommend that all images be saved at 300 dpi.
Security & Privacy Questions
No. For your security, we don't keep any credit card information on file.
Yes. Our secure checkout system uses the latest secure server technology. Your order is submitted and retrieved with a secure connection to our server and remains secure at all times.
Absolutely not. We keep all customer information internal. Occasionally, you may receive offers and announcements from SCP Group via e-mail. You may unsubscribe from these messages at any time.
Site-Related Questions
Our site should work with all browsers, however, we recommend the latest version of Microsoft Edge, or Google Chrome for Windows and Firefox for Mac.